1. Class One - Becoming a Conscious Business Leader and Manager + Strengths + Temperament
Read some on Conscious Leadership
Brett Thomas is the lead developer of the Conscious Business Academy. I've followed his work for some years and he is one of the many people around the globe who are applying the principles of Integral Theory to a particular domain... in this case, the business community.
Here is what you can do before the first class.
Go to this page on my website
and read the articles there by Brett Thomas and Russ Volckmann. This is "The Leadership Manifesto" that they will convert into a book some day. You will find five documents at the bottom of the webpage. Each is a few pages long. Start at the top and work your way down the list. I've printed mine out and I have them in one folder for reference.
---
Take the Strengthsfinder 2.0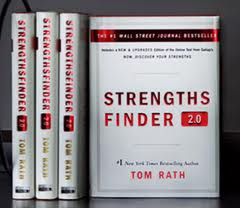 You are going to love doing this! Promise. Each of you has been given a copy of the book, which is a reference book and not something you have to read cover-to-cover. In the back of the book you will find a maroon thingy that you tear open. Scratch off the secret code and follow the instructions for taking the Strengthsfinder 2.0.
I'll tell you the story behind the Strengths movement that was started by the Gallup Organization. I've got a power point to share with you, too.
It takes 30 minutes or so to complete the assessment. That's uninterrupted time, so go to the bathroom before you start!
Save and print out the results. There is one-page for each of your 5 top strengths, and then the whole report which is a great coaching tool.
I'll invite you all to share your strengths in an email, and I'll collate them, too.
---
---
Take this "cheap and dirty" Myers-Briggs
Go to
www.humanmetrics.com
to complete THE JUNG TYPE TEST. Scroll down the page until you find the JUNG TYPE TEST, or look for it in the upper left corner. Read the stuff in the dialogue box and then click DO IT. You will find 72 questions and when you are done, click SCORE IT.
Copy and save the results, including the percentages you received. This is important to do. Copy and save your scores and then email them to me at andy@andyatwood.com.
---
Study Up on your MBTI Type
You have a book titled
The 16 Personality Types.
Read the front of the book to get oriented to the MBTI, and then look up you type. You will find a 2-page description that should sound like you. If it doesn't, look around until you do find a description that fits you, that resonates with you.
For more information on your type you can also go to
www.keirsey.com
.
---