FOR SALE BY OWNER

214 Gold Ave. NW
Grand Rapids, Michigan 49504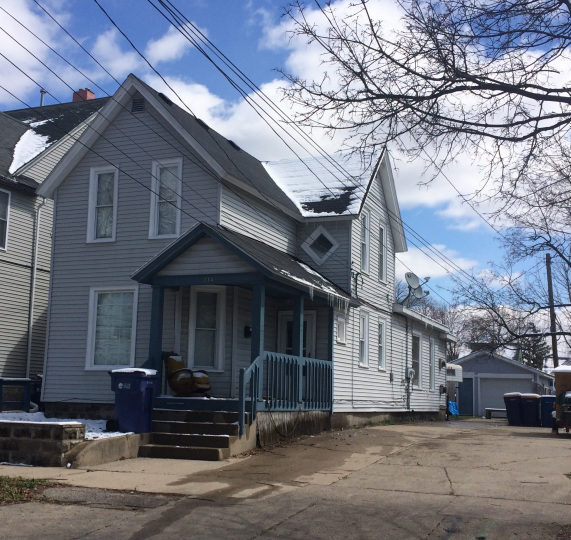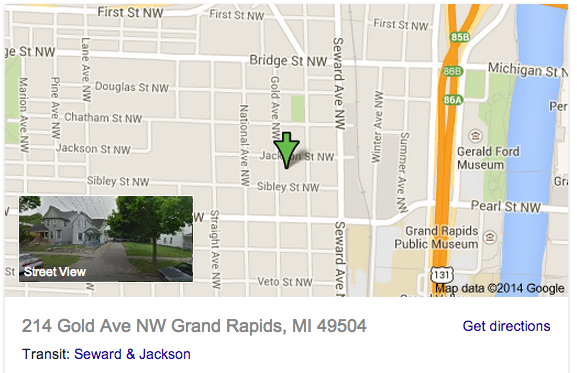 Built in 1890, this old house has seen a ton of upgrading since we have owned it. Before we purchased it, vinyl siding was installed, as was a new furnace for the front apartment.
The
TWO-STORY
FRONT APARTMENT:
First floor: living room, dining room, bedroom/office, bathroom, kitchen. Second floor: two bedrooms and a closet.
The ATTACHED BACK APARTMENT: is a studio apartment with one bedroom, living room, kitchen/dining, and bathroom. Currently the garage is included in the back apartment rent.
OFF STREET PARKING FOR TWO CARS.
Since we have owned it we have made the following improvements to the
TWO-STORY
FRONT APARTMENT
as of the approximate dates:
A new roof in 2001 on the whole house.

The kitchen and bathroom were remodeled in 2001.

New American Craftsman vinyl windows from The Home Depot were installed in 2001.

In 2010 the entire attic was insulated by VerWys Home Improvement.
The ceiling in the dining room is new drywall as of 2011.

The electric was improved to the tune of $3700.00 in January, 2014. New wiring to the bedrooms made up most of that project.

The chimney was rebuilt in 2013 at a cost of $4000.00.

The front apartment has been repainted, almost entirely, in February, 2014.
---
The
ATTACHED
BACK APARTMENT
has had some upgrades:
The furnace in the back apartment is brand new as of January, 2014.
The bathroom has a shower that was installed in 2001, and new linoleum and a new toilet as of April, 2014.
The kitchen ceiling, rafters and drywall, were replaced in March, 2014.

New paint all around.

A new 5' sliding glass door was added in March, 2014.



---
THE TWO-STORY FRONT APARTMENT
---
THE ATTACHED BACK APARTMENT
---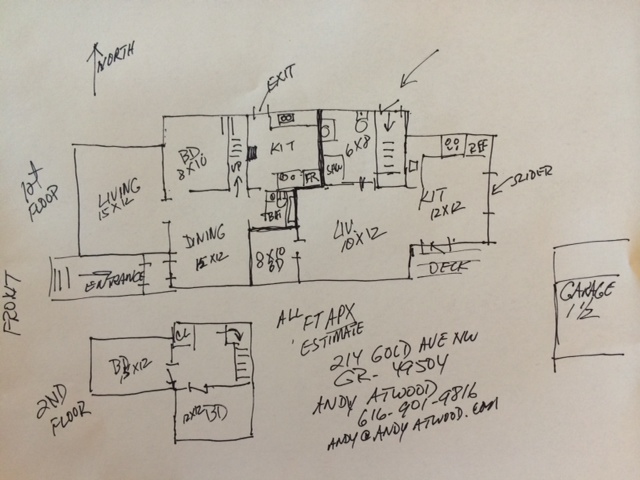 Front Unit is two stories with two bedrooms and a closet on the 2nd floor. First floor is a living room, dining room, another bedroom, bath, and kitchen.
Back Unit is one story with a bedroom, living room, kitchen.
1 1/2 stall garage is in the back.
THE NEIGHBORHOOD
IS THE OPPORTUNITY
The West Side is undergoing dramatic changes.
GVSU was the first big move to the West Side, and now Rockford Development is about to begin a major revitalization of the Bridge Street neighborhood. New buildings are going up fast within the block or two west of Seward between Bridge and Fulton. Developers are working on a four-story project on Lake Michigan drive between Seward and Lexington (that is 1 block south and 1 block east of The Gold House). Millions of dollars will be spent in upgrading the immediate neighborhood.
Right next door to the south
there is a total renovation going on as a new owner is gutting and doing a complete rebuild into a home with four bedrooms and one kitchen... college students are targeted, no doubt. Follow these links.
There is a vacant lot immediately to the south that is empty back and around to Lexington. When the Lexicon Club burned it damaged the neighboring home, and subsequently that was removed. All that empty land right next door and behind will be developed at some point by somebody.

---
Know that the price listed on Zillow has gone up and then down from $70,000 in February 2014 to whatever it is today. The market bottomed, as you likely know, and the changes coming to the West Side are also well known. Refresh your browser on Zillow to make sure you have the current price. It changes weekly.
---
THE FINANCIALS
CURRENT INCOME
Two-Story Front Apartment generates $675 a month and has for years. New tenants went in during February, 2013. After that I made a bunch of inquiries and realized that I am undercharging for this apartment. Should be $900 a month at least. When I placed an ad on craigslist in January 2014 for tenants and received 23 inquiries in 24 hours, I began to ask around about how I was priced. $900 a month at least but I'd already signed up my current tenant.
Attached Back Apartment generates $400 a month, and the garage is included in that. This older tenant has rented since 2004 and always pays on time.
CURRENT EXPENSES
I pay the water bill only, and that is approximately $130 every three months. Tenants pay for gas, electricity, trash, snow removal, and the tenant in the back trims the little grass there is.
Maintenance at this point is minimal given all the upgrades.
Taxes were $1,485.93 last year.
---
ASKING PRICE
$85,000.00
However, I understand the market is changing and prices are going up and down.
Pitch a price to me.
Terms: Cash/Conventional

All information provided is deemed reliable but is not guaranteed and should be independently verified. This property is NOT a short sale
or foreclosure listing.
---
CONTACT INFORMATION

Andy Atwood
Voice 616-901-9816
Email andy@andyatwood.com