Class 3 - Meeting in the Huron Room again, but from 10:00 to 1:00, so bring a bag lunch if you want to.


Quadrants - UL, UR, LL, LR - What the heck is this?
The image below is fuzzy and I apologize for that. The quadrants are one of 5 pieces of Ken Wilber's "Theory of Everything." I've been following the development of Integral Theory since 1995 and it is the map I use to organize my life and work. If you want to learn a little more about quadrants you can go to the wikipedia article by
CLICKING HERE.
I've also included a word doc right below that has a better image of the four quadrants. Grab it. We are working with the two upper quadrants right now; the subjective part of you, and the objective part of you. Of course, as you lead and manage you are always paying attention to the intersubjective part of your team, and the interobjective part as well - the WE and the ITS.
I so want you all to get this model, so chew on it and use it to expand your perspectives - to enlarge your map of the territory.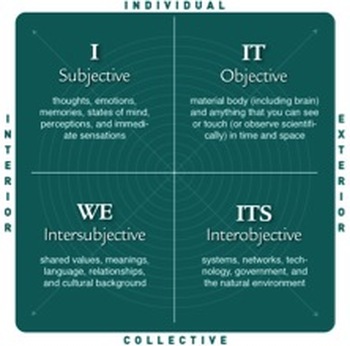 ---
From Sharon Barton
we have Resources for Human Development, which is a behavioral health provider
http://www.rhd.org/RHDValues.aspx
Click on that link and you will find their values, and then at the bottom, their Bill of Rights and Responsibilities. Thank you Sharon!
---
PROCESSES RUN THE BUSINESS.
DISCIPLINED PEOPLE
RUN THE PROCESSES.
While reflecting on our conversations last week in Class 2, I was reminded again of the challenge that has been before CSHS since the merger. The biggest reasons mergers struggle is because their cultures don't integrate well.
To merge these three cultures is a challenge that is even more complicated by the very nature of the industry in which we work. Health care is constantly changing, creating a new paradigm for what it does day-by-day. This is a very, very dynamic industry.
And, it is complicated by new rules and structures, new ways of doing things. Chief among those new ways is the fact that everything has to be measured and documented. Without adequate documentation, the government won't pay for services.
Get this - all the money that comes into CSHS comes from the government (or somewhere else, but I'll keep referring to it as the government), and the government won't release money unless CSHS can document that it has, or will deliver very specific services. CSHS is paid for what it has done, and it is granted money for services that it promises to deliver. Documentation is required for payment.
I think of the government sort of like an absentee landlord who has to pay a local contractor to fix up a broken boiler in the basement. The absentee landlord isn't going to pay for fixing the boiler that it will never see unless there is adequate paperwork from a licensed plumber to document the proper installation of the boiler. Get the paperwork to the government, and the government will pay, but not until the paperwork is in. And, the government might even come by to inspect the workmanship.
CSHS, Proaction, and Touchstone had different degrees of formality with regard to the paperwork, the documentation, the SOPs (think LR - Lower Right Quadrant). Each was more-or-less loose with regard to following well documented SOPs. Their cultures were different around the absolute necessity for following the SOPs.
Today, the mantra I preach, and which is framed and on the credenza behind Pat Davis' desk is this:
PROCESSES RUN THE BUSINESS. DISCIPLINED PEOPLE RUN THE PROCESSES.
CSHS is obligated by its funders to have clear and consistent processes, and then to have disciplined people run the business according to those processes. This presents two challenges.
We need clear and consistent processes for everything, and that means we have to keep tweaking our process, documenting them, modifying them... perfecting them in a very dynamic industry. A huge ongoing challenge.

We need leaders, managers, and worker-bees that follow the processes. This means we need individuals and a culture that is disciplined about following processes.
Your job is to be one of those disciplined people who follow the processes that are not always clear, and not always consistent, but which must be followed or the government won't pay the bill. Pretty simple.
Let's talk about this when we get together for Class 3.
---
Silos, Turf Wars, and Politics - The book by Lencioni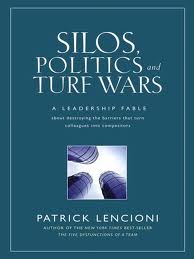 Given our conversation at the second class, it makes sense that we now read this wonderful book by Lencioni.

Avery is downloading audible books. Smart way to use one's time and to get it done.

I'm attaching a summary of the book below that is NOT FOR REPRODUCTION. It is for your use only. This is copyrighted material, so I'll take it down after our third class. Grab it if you want to!
---
---
Class 3 - More UL and UR of the Manager - Servant Leadership
We want the managers and leaders of CSHS to be Servant Leaders.
James Hunter is a consultant from Detroit. You have been given a copy of his book,
The Greatest Leadership Lesson.
You should also have an audio featuring Hunter in a day-long workshop. The concepts are much the same, but the format for Hunter is different.
Servant Leadership is a core concept around which we wish to build.
Read the book, listen to the workshop, and talk with your triad.
Here are some guiding questions:
Have you known someone who was a Servant Leader, or close to being one?

What do you think is the key ingredient to being a good Servant Leader?

How about you? How close are you to being a Servant Leader?

How are we doing at CSHS when it comes to Servant Leadership?
---
Some work for you to do in your Triad
Here is a great opportunity for you to revisit the pre-class surveys you completed at the beginning. Work on our SWOT analysis. Now you should have a clearer idea of what Servant Leadership is all about. Look at your scores, the feedback you received from your people, and work on that self-improvement plan. Where will you strive to make improvements? Each of the three of you should put together a simple one page plan for how you will improve your scores on the Servant Leadership survey.
---
The Seven Pillars of Servant Leadership
Here is a two page summary by a different group of authors who have identified Seven Pillars of Servant Leadership. You can read the document here quickly, or you can download the file.


servant_leadership_seven_pillars_of_servant_leadership_summary-1.doc
File Size:
152 kb
File Type:
doc
Download File
---