Class Six - August 14 - Case Studies and Case Studies and MORE Case Studies
We are at a transition point. It started at Class Five, and now we are fully into Case Studies.
You have been seeded with a long list of tools and resources. Draw from all of that you create your case studies for this class and the rest of them through December.
I'll continue to bring nuanced information to each class. One way I will do that is through the Case Study that I create and bring to you. This one is about hiring and onboarding of new people into your team.
Use the Case Study Template below, which is the same doc that was introduced in Class Five.
Remember, the goal right now is to cultivate the ability to take many perspectives on the challenge before you. It isn't just about - what's inside you, or your behavior, or the culture, or the systems and processes - it about all four! Take all four perspectives.
Come to class with a well thought out Case Study from which you can share your perspective, including all four quadrants.
This time - the focus will be on the UL - the Upper Left quadrant.
Go back to your Strengthsfinder and look at how your strengths are impacting your perspective.
Go back to your MBTI - Your Myers-Briggs Type Indicator and look at how that, connected with your strengths, is impacting your perspective.
Think about your own history, your own world view, your gender, your experience.... all of that is impacting your perspective.
AND REMEMBER - THERE ARE NO WRONG PERSPECTIVES! Only partial perspectives. Not wrong ones.
Here is my template from Class Five, and my Case Study.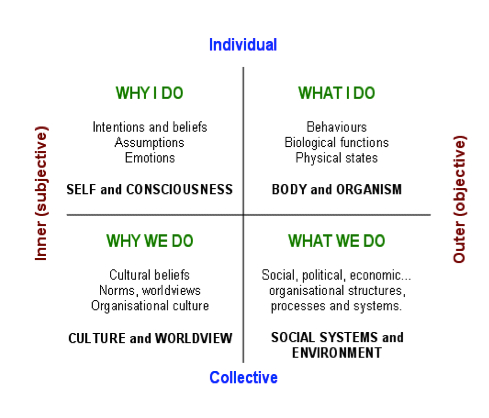 ---
Use the Action-Inquiry-Reflecton Model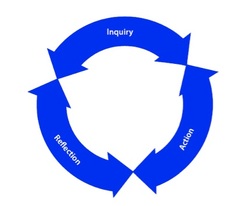 The Inquire<>Action<>Reflection model is just so NORMAL.


This is how we think and process and learn and grow.


Wonder. Reflect deeply. Act. Wonder. Reflect deeply. Act again. And again.
---
---
Another Case Study example from Dr. Atwood, right below.