Capitalism has been around at least since 1776 when Adam Smith wrote The Wealth of Nations and democracy emerged with the Declaration of Independence and the birth of the United States of America.

CONSCIOUS CAPITALISM has been emerging since 2010, maybe longer. As a business model, it has not yet reached the tipping point where it is commonly spoken of, or "gone mainstream". But, that will happen over the next decade.

Such deep and wide shifts happen almost unseen. It is only in looking back that the dots are connected.

While I have been studying many of the ingredients that make up CONSCIOUS CAPITALISM, the recipe that combines all the ingredients into something delicious is fairly new to me.

In February, 2014, I enrolled in the Conscious Business Academy, and through that online learning community I've learned some more. I admit that I dropped out after 6 weeks or so. The class was oriented toward beginners in the field of CONSCIOUS CAPITALISM who are starting their own business. The big learning for me was that I'm not a beginner on this stuff.
---
CONSCIOUS CAPITALISM: Liberating the heroic spirit of business - by John Mackey and Raj Sisodia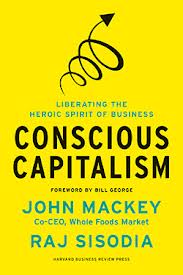 This is the book, published in April of 2013, that pumped me up to a more integrated level of thinking about businesses and my work with them.
The four tenants of CONSCIOUS CAPITAiSIM are:
A Noble Purpose
Care for All Stakeholders
Conscious Leadership
Conscious Culture
Each of the four tenants noted above will be a link to another page where tools and resources will be collated for the Conscious Leader on each of the tenants.
You can find a two-page document here that will give you a snap shot of what CONSCIOUS CAPITALISM is about.
Just click here
.
---
---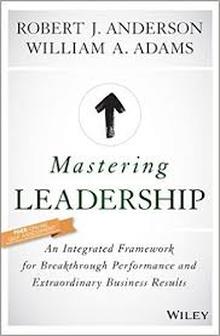 Mastering LEADERSHIP by Anderson and Adams.
I can't tell you how excited I was to read this book when it first came out in early 2016. I was familiar with almost every idea and author cited within this wonderful text.

In fact, in May of 2016 I completed a certification course that enables me to administer The Leadership Circle Profile, a 360degree assessment too, and its companions for Mangers and Cultures. Doing so is an ongoing part of my practice.

Conscious Leadership must be present for their to be a Conscious Culture. There is research in this book that clearly establishes the organized common sense I so value - Effective leadership is directly correlated with having an effective business.

The authors have a developmental model that takes a leader from the following stages: Egotistic > Reactive > Creative > Integral > Unitive. The focus is on the capabilities that it takes to move from the Reactive to the Creative, which is the domain where 75% of today's leaders are challenged.

"An Integral Framework for Breakthrough Performance and Extraordinary Business Results."

Lots of research behind their model. Just below you can find a book review by Jonathan Reams from the Integral Review. It is an excellent summary and critique of the book.
---
vol_12_no_1_reams_review_of_mastering_leadership__2_.pdf
File Size:
318 kb
File Type:
pdf
Download File
---
---
New in September, 2013.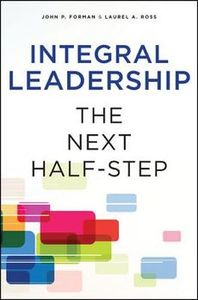 I'm tremendously impressed with this book. In fact, I could hardly put it down. Integral Theory can be pretty dense. What seems to be happening is that as time moves along, more and more people are working with Integral Theory and finding practical ways to use the model, and more common language for expressing it all.

Forman and Ross have done a terrific job of making Integral Theory useful.

If I were to teach a course on Integral Theory and Leadership, this would be the text at the center of the course.

The great axial period was 200 to 800 BCE. The second is about to emerge, and we are now taking "the next half-step" toward the Age of Integral. Everything seems to be pointing in the same direction.

I highly recommend this book, published by the State University of New York.
---
---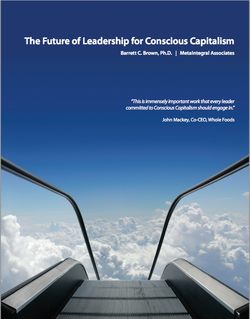 Barrett Brown is the single best interpreter of Conscious Leadership and its role within Conscious Capitalism.

This 28 page paper is excellent and I can't endorse it strongly enough.

You can download it yourself by clicking on the link below.


Do it now!
---
metaintegral_brown_the_future_of_leadership_for_conscious_capitalism_20140402_2.pdf
File Size:
9985 kb
File Type:
pdf
Download File
---
---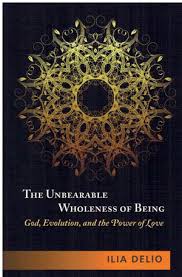 The Unbearable Wholeness of Being: God, Evolution, and the Power of Love. By Ilia Delio. 2013.

Delio is a brilliant Roman Catholic nun and scholar who takes the scriptures in one hand, and books on science in the other, and then integrates them. She elegantly integrates Jesus and evolution, Merton and de Chardin, Scientific American and the whole field of conscious evolution. And, more.

You can see in this book, and the next, that if my faith is not enriched by this process I am as a fish without water. This whole enterprise called CONSCIOUS CAPITALISM fits within the Kin-dom of God.
---
---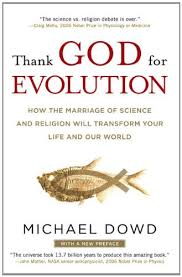 Thank God for Evolution: How the Marriage of Science and Religion will Transform Your Life and Our World. By Michael Dowd. 2007.

The author argues in a compelling way that religion and science can flourish together in mutually enriching ways. Science provides the facts and Religion provides the moral and ethic framework. Five Nobel Laureates have praised this book. If you want to get out of your socialized-self and its ethnocentric frame of reference, read this book.

I'm using it as the principle jumping-off-point for my blog on "The Kin-dom of God."
---
---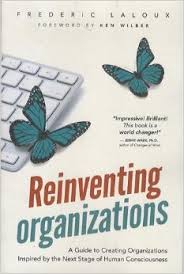 Reinventing Organizations: A Guide to Creating Organizations Inspired by the Next Stage of Human Consciousness. By Fredric LaLoux. Forward by Ken Wilber 2014.

The author studied 15 organizations from around the world and discovered that they had emerged in amazingly similar ways. They have cracked the code. Here, in practical detail, is how "Teal Organizations" are functioning. This is the how-to bible for my work. 360 pages of wonderfully helpful advice based on real-world, trial and error.
---
---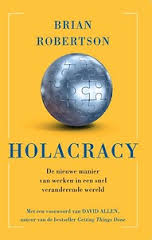 Prior to reading
Reinventing Organizations
I became familiar with
Holacracy
and its innovative way to organize a business. If you use the Spiral Dynamics model to think about organizing people and work, you will see that Holacracy is a second tier, YELLOW system. In Ken Wilber's model it is a TEAL way of organizing.
I pitched Holacracy to 616 Development with whom I work, and we all chewed on it a bit. If you look directly above you will see a ppt that you can download. I created this for 616 in 2014. It sort of went away, but lingered in their consciousness and re-emerged again in late 2015. It was amazing to see their adoption of Holacracy just emerge.
Here is a link to an intro on Holocacy
. If I'm right, this is the future, especially for millennials and those younger.
---
---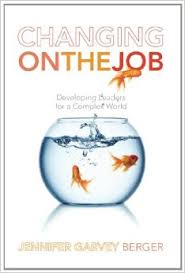 Changing On The Job: Developing Leaders for a Complex World. by Jennifer Garvey Berger. 2012.

My tag line has been the same for a decade: "I help people at home and a work, to get along and get ahead."
This book is about developing the capacity to get along at every higher levels of consciousness. This is another how-to book. How to help someone move from a self-soverign self, to a socialized-self, to a self-authored self, to a self-transforming self. Those of you familiar with Sam Keen's model will recognize the patter: CHILD to REBEL to ADULT to OUTLAW to LOVER.... To the Consciousness of Christ.

This book is such a valuable tool that I have typed out an entire outline, including all the tables, as a reference guide for my use.
---
---
MEGATRENDS 2010: The Rise of Conscious Capitalsm - by Patricia Aburdene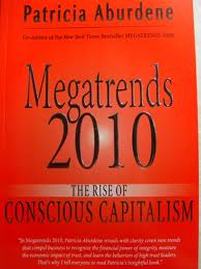 In 1982 John Nesbit and Patricia Aburdene published
MEGATRENDS
, and she has gone on to publish other books in the same genre – this being one.
MEGATRENDS 2010: The Rise of Conscious Capitalism
, was published in 2005. In the book, Aburdene identifies 7 megatrends.
The Power of Spirituality

The Dawn of Conscious Capitalism

Leading from the Middle

Spirituality in Business

The Values-Driven Consumer

The Wave of Conscious Solutions

The Socially Responsible Investment Boom
She writes, "In this book's conclusion,
The Spiritual Transformation of Capitalism
, we explore the underlying values of capitalism. I shall attempt to dispel what I believe is the absurd notion that free enterprise is rooted in greed. Conscious Capitalism isn't altruism, either; it relies instead on the wisdom of enlightened self-interest."
The book is full of stories and anecdotes that support the 7 megatrends she has identified. There isn't a lot of depth to this book, and yet, the case is well made. It resonates with me, and would with the people with whom I work. In 2006, Fred Kofman wrote his book,
Conscious Business,
and with that brought anther title to the fore. It would appear that "Conscious Capitalism" is the one that will stick now that Mackey and Sisodia have published their book.
Page 45 – What is Conscious Capitalism?
Bottom-up – a broad-based, grassroots movement pressing for greater accountability and integrity in business.

Top-down – espoused in hundreds of the world's leading corporations.

Prosperity-oriented – an engine of superior financial performance.

Investor-driven – attracting trillions into socially responsible funds, as you'll see in chapter seven.

Activist – a hotbed of advocacy from shareholder to environment.

Demographic – reflecting of the changing human profile of business.

Consumerist – winning growing public support in the marketplace.

Spiritual – the real-world manifestation of the quest for transcendent values in business.
---
---
CONSCIOUS BUSINESS: How to build business through values - by Fred Kaufman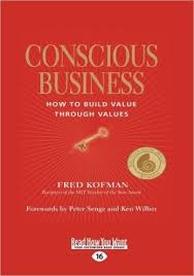 "Fred Kaufman - Author of Conscious Business, co-founder of Axialent and head of our Academic Board, Fred has created and taught programs in leadership, personal mastery, team learning, organizational effectiveness, and coaching for thousands of executives worldwide."

I've listen to audios featuring Fred Kaufman, and I've followed his work for years. Fred co-founded the Integral Business Institute with Ken Wilber.

I read most of this book in 2006, but wasn't ready for it at the time. Now, I'm re-reading it.
---
---
FIRMS OF ENDEARMENT: How World-Class Companies Profit from Passion and Purpose - by Raj Sisodia, David Wolfe, and Jagdish Sheth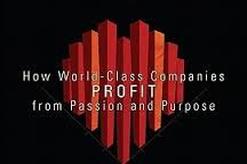 This is a truly inspiring book to read. The authors are all academics who have latched onto what they cal FoEs - "Firms of Endearment." The are loved by everyone, and they are very, very profitable.

Look below and you will find a youtube link that will give you a short look at Raj Sisodia, the lead author of this book. He also collaborated with John Mackey on the book CONSCIOUS CAPITALISM.
---
---
Reimagining Capitalism with Higher Consciousness - Raj Sosodia at TEDx
Published on Nov 20, 2012

"To Reimagine America, we must reimagine capitalism. Capitalism has been extraordinarily successful over the past two centuries at raising human living standards, life expectancy and life satisfaction. But the old way is not working any more. The world has changed so much and people have evolved so rapidly that we need to bring a higher level of consciousness to the world of business. When we do so, the results can be astonishing."


---
R. Edward Freeman: A New Story for Business
Published on Feb 5, 2013

"Elis and Signe Olsson Professor R. Edward Freeman speaks to an executive audience about the role of business in society. He explains the flaws of traditional thinking and encourages the audience to think differently about business. Freeman's speech includes several humorous anecdotes which illustrate his points."

Freeman is one of the academics that have pioneered research into the role that care for all stakeholders has on the new story for business.

I'm participated in a five-week MOOC (Massive Open Online Course) with Freeman in the fall of 2013.
---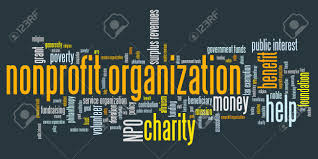 I blessed with the opportunity to co-found a non-profit counseling center in 1974. It was called the Marriage and Family Center then, and in 1997 it morphed in the Fountain Hill Center for Counseling and Consultation. After 33 years as its Executive Coordinator a succession plan was created and executed. I left in 2007 with a business partner who, sadly, died from a massive heart attack only eight weeks later. Life is full of its surprises.
Since then I've been on my own as Andy Atwood, PC. My wife Jan, a gifted bodyworks practitioner, shares space with me in our office condo on the fourth floor of American Seating Park.
Non-profit organizations have been near and dear to my heart for a long time. There are many different types of non-profits. As CONSCIOUS CAPITALISM points out, no business can survive if it doesn't make a profit. No business can fulfill its mission if it isn't run effectively and profitably. Profit is necessary in order to fulfill mission. Sound business practices, those that are common among the "Firms of Endearment" who practice CONSCIOUS CAPITALISM, apply to non-profits with equal or greater relevance.
A Shared Noble Purpose
Integration of all Stakeholders
Highly Conscious Leadership
Highly Conscious Culture
---
---