Atwood +
---
Culture Change

---
Diagnosing and Changing Organizational Culture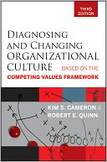 I've read this book 4 times. The authors are from the U of M School of Business, and they have a well researched system for diagnosing and changing organizational culture. This is really a workbook. They have a prior book,

Competing Values Leadership

, which is excellent as well. I've written a short list of "talking points" on both books.
If you want to talk about how to sustain your culture, change it, or develop your leaders so that they can do either one, let me know.
---
Character of a Corporation: How Your Company's Culture Can Make or Break Your Business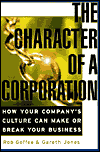 Culture, like synergy or competence, is one of those words that is evocative yet ethereal. While culture is absolutely central to competitive success, few executives understand how to proactively shape the values, beliefs, and mental models that form the foundation of long-term success.
In The Character of a Corporation, Goffee and Jones succeed where many others have failed: they manage to pin down the butterfly of corporate culture, making the elusive tangible. In so doing, they have produced an eminently practical guide for executives who know that success derives as much from a company's soul as from its products.
---
Tribal Leadership: Leveraging Natural Groups to Build a Thriving Organization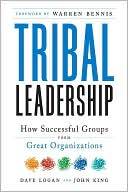 It's a fact of life: birds flock, fish school, and people "tribe." I spent 13 weeks online and on the phone taking both "Tribal Leadership Intensives I and II" telecourses because this model makes enormous sense. Think about it.

Every company, indeed, every organization, is a tribe. If it's large enough, it may be a network of tribes - groups of 20 to 150 people in which everyone knows everyone else, or at least knows of everyone else. Tribes are more powerful than teams, companies, or even CEOs, and yet their key leverage points have not been mapped - until now. In Tribal Leadership, Dave Logan, John King, and Halee Fischer-Wright show leaders how to assess their organization's tribal culture on a scale from one to five, and then how to implement specific tools to elevate from their current stage on to the next. The result is unprecedented success.

In a rigorous eight-year study of approximately 24,000 people in over two dozen corporations, Logan, King, and Fischer-Wright refined and defined a common theme: the success of a company depends on its tribes, the strength of its tribes is determined by the tribal culture, and a thriving corporate culture can be established by an effective tribal leader. Tribal Leadership will show leaders how to employ their companies' tribes to maximize productivity and profit: the authors' research, backed up with interviews ranging from Brian France (CEO of NASCAR) to "Dilbert" creator Scott Adams, shows that over three quarters of the organizations they've studied have tribal cultures that are merely adequate, no better than the third of five tribal stages.

Leaders, managers, and organizations that fail to understand, motivate, and grow their tribes, will find it impossible to succeed in an increasingly fragmented world of business. The often counterintuitive findings of Tribal Leadership will help leaders at today's major corporations, small businesses, and nonprofits learn how to take the people in their organization from adequate to outstanding, to discover the secrets that have led the highest-level tribes to remarkable heights
(like the team at Apple that designed the iPod)
, and to find new ways to succeed where others have failed.
---
Spiral Dynamics: Mastering Values, Leadership and Change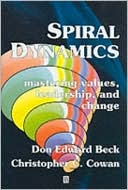 Spiral Dynamics introduces a new model for plotting the enormous economic and commercial shifts that are making contemporary business practice so complex and apparently fragmented. Focusing on cutting-edge leadership, management systems, processes, procedures, and techniques, the authors synthesize changes such as:

Increasing cultural diversity.

Powerful new social responsibility initiatives.

The arrival of a truly global marketplace.

This is an inspiring book for managers, consultants, strategists, and leaders planning for success in the business world in the 21st century.


---
SWITCH: How to Change Things When Change is Hard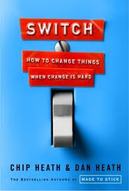 I think this book is wonderfully useful. I really like the first book written by this brother team, Chip and Dan Heath. That was "Made to Stick" and it was about why some ideas stick and others don't. The authors read research, collected anecdotes, and then spell out a model in clear terms.
Direct the Rider

Motivate the Elephant

Shape the Path
There is so much practical use in this book that I've taken the time to outline it in 7 pages. You can find it by CLICKING HERE.
---
---
Strategic Planning and Design Thinking
---
My version of a "Strategy Map" from Tribal Leadership
During the 12 weeks that I completed the teleclass for Tribal Leadership I and II, we were all introduced to the process of "Strategy Mapping." Immediately, I recognized the elegance of this simple model. One of the processes we were engaged in during the teleclass, was "triading." I was in a triad with Sarah from Toronto, and Frank from Sydney. Frank introduced me to Prezi.com, and I made a Prezi of the Strategy Map, which you can find by below
. A wonderful tool!
Change by Design: How Design Thinking Transforms Organizations and Inspires Innovation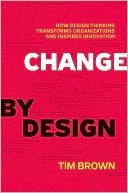 I've done something different and interesting with the whole concept of "design thinking." Where I once used a rather traditional approach to strategic planning, I now have adapted design thinking to do the job.
Tim Brown is, as of this writing, the CEO of IDEO, one of the leading design firms in the world. You can catch him on TED.com. Three steps: HEAR | CREATE | DELIVER. Or, Human Centered Design. HCD. The process involves the collection of a lot of data on the front end. Hearing stories is very important. Out of all of that certain themes emerge. From the themes, opportunities are discovered, and some of them become possibilities. The possibilities are prototyped over and over again until the finished product, a plan for the future, is ready for delivery.
It is a collaborative approach that blends hard left-brain data with soft right-brain intuition.

IDEO is designing products and human systems that are making the world more beautiful, and functional. I highly recommend Tim Brown's book to anyone that is interested in design thinking and the design process.
---
The Design of Business: Why Design Thinking is the Next Competitive Advantage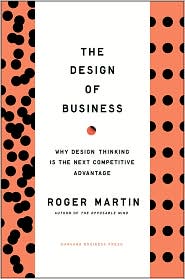 Most companies today have innovation envy. They yearn to come up with a game-changing innovation like Apple's iPod, or create an entirely new category like Facebook. Many make genuine efforts to be innovative - they spend on R&D, bring in creative designers, hire innovation consultants. But they get disappointing results.

Why? In

The Design of Business

, Roger Martin offers a compelling and provocative answer: we rely far too exclusively on analytical thinking, which merely refines current knowledge, producing small improvements to the status quo.

To innovate and win, companies need design thinking. This form of thinking is rooted in how knowledge advances from one stage to another - from mystery (something we can't explain) to heuristic (a rule of thumb that guides us toward solution) to algorithm (a predictable formula for producing an answer) to code (when the formula becomes so predictable it can be fully automated). As knowledge advances across the stages, productivity grows, and costs drop - creating massive value for companies.

Martin shows how leading companies such as Procter & Gamble, Cirque du Soleil, RIM, Herman Miller, and others use design thinking to push knowledge through the stages in ways that produce breakthrough innovations and competitive advantage.

Filled with deep insights and fresh perspectives,

The Design of Business

reveals the true foundation of successful, profitable innovation.
---
---
Succession Planning
---
To be added... soon.
Email me if you are interested.