"I work with entrepreneurs and their family owned businesses,
and businesses that feel like family (or wish they did),
and my mission is
to help their people, both at home and at work,
to get along and get ahead."
---
On January 22, 2013, I was invited to "Innovation Talk" by Mike Suman and Patrick Center. This little 10 minute weekly segment at GVSU's studios downtown is about innovation, and Mike is the King of Innovation in my book. Thanks to Mike and the programs host, Patrick, for inviting me tell my story.
---
Complete this survey to determine if you are keeping the family baggage out of the family business!
Quentin J. Fleming has written a helpful book that covers a great many of the issues that challenge family businesses. I don't agree with all of what he has written, but it will stimulate your thinking and discussion around the critical issues confronting every family business. The pdf below gives you the title of his book, the table of contents, and a survey he has created.
---
Clarity

+

Direction

+

Traction
When I ask the people I work with about the benefits I bring to them, the feedback I most frequently receive is "Clarity, direction, and traction."
That makes sense to me. Beyond clarity emerges a direction. Frankly, it is seldom, if ever, my direction. Rather typically it is a direction that has emerged from healthy conversations that have occurred between a business leader and his or her key people.
Partnership - Sole Proprietor - Family Owned Business - Nonprofit
My beginning assumption is that there are enough talented and committed people on your team to move you onward and upward. Admittedly, that is sometimes not the case, and if it is not, then the tough issues have to be faced compassionately and directly. However, I do begin with the belief that you and your people can get traction if you have healthy conversations out of which emerges clarity and direction.
My role is to create an environment in which people can talk frankly about the really important stuff. I also bring a certain amount of structure to the conversation. For example:
We might talk about the elephant in the living room.

A strategy map might be appropriate for building an immediate and long term solution.

Maybe we will put some fun into a dysfunctional team.

Or, we might address a particularly vexing dilemma that has you stuck.

And then there are always the myriad of ways in which the family baggage gets carried into the family business.
Clarity + Direction + Traction
Frankly, I've been a business partner and leader in a variety of ways for many years, and there is always a need for more clarity, direction and traction.
And the need is especially challenging when yours is a
Family Owned Business.
This is my special niche.
In 2009, I was gifted by a call from a young graduate student from North Carolina who was doing some research on people in the USA who had moved from the profession of Marriage and Family Therapy to being a Family Business Consultant. I'd always thought that my work was pretty unique, and she confirmed it. Maybe a dozen of us existed, and two were here in Grand Rapids. Dr. Joe Horak, my friend and a professional colleague who, with his wife Stephanie, has an office down the hall, is the other seasoned Licensed Marriage and Family Therapist working with Family Owned Businesses in our community.
I'm one of small handful of people that really gets business, and gets family.
Four other factors make me unique.
I'm a Pastor at heart. My ongoing journey is essential to my soul. I began my career with seven years of theological training, and then I moved beyond that as my walk with God expanded my consciousness of the Divine, and my Reverence for Life. I'm interested in the Spiritual Growth of the leaders of your company, as well as each and every one of your people.

I'm not a financial guy. However, I can help your financial people and your accounting people to work more productively so you can more effectively manage your business and family.

I'm not an especially strong operations guy, either. But again, I work a lot with operations people, and I will help you and your people to bring necessary order and structure to your SOPs, your Standard Operating Procedures. I was visiting the COO of a nonprofit this week, as I do every week, and on her table was a sign that read, "Processes run the business. Disciplined people run the processes." She got that from me.

My focus is on the individual people and the shared culture of your family and your business, because "culture eats strategy for lunch

every day." When you people are working well together, the business will likely thrive.
My mission is to help people at home and at work,
to get along and get ahead.
If you are stuck somewhere in your business or your family, and you are intrigued about the possibility of working collaboratively, contact me. I'll buy our breakfast or lunch, or you can come in for a quiet chat and a cup of coffee or tea. We can explore together the challenges and opportunities before you, and how working together might make your task more successful.
voice me at
616-901-9816
email me at
andy@andyatwood.com
---
Being a part of a family business can be quite a trip!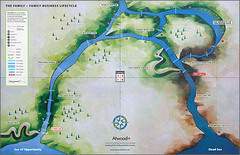 Make sure you click on the links at the top of the page for the tools and resources that I've collated and created for the leaders of Family Owned Businesses.


+ Tools and Resources for Family Owned Businesses
+ Tools and Resource I've Created
+ Culture Change, Strategic Planning, and Succession
+ Advisors I Trust

Click on the tab of interest at the top of this page and take another step on your journey!
---