Atwood
+
---
My River Map and Compass
This is a long page, so be patient as you scroll down. You will find three pieces here, each created by me.

FIRST - The River Map of Your Journey, and Mine.
SECOND - The Compass that Guides Us.
THIRD -
My 53-page eBook
"Guiding Your Family Owned Business UP the River!"
---
The River Map of Your Journey, and Mine.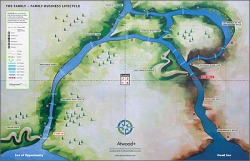 It has been said that, "If you don't know where you are going, you will probably end up somewhere else."

Family Owned Businesses, like all businesses, travel a rather predictable course. Here is the map that can help you to recognize where you have been, where you are now, where you don't want to go, and where you do want to go in the future. If you would like an 11 X 17 printed copy of my River Map, just contact me, and one will be mailed to you. The original oil painting, commissioned by me and painted by Jody Williams, is about 4 feet x 5 feet and hangs in our office.
Every adventure begins in the
Sea of Opportunity
. Pure potential births every dream. You know this is true because either you, or someone that came before you, had a dream that emerged into the business that is now yours.
Only a novice would start out on a
Whitewater River Rafting Trip
without a map, and yet that is exactly what almost every family business founder does. He or she has a dream; a vision of what could be, that has captured the imagination, and fired the spirit within.

For most, the
Dream Drive
never really goes anywhere. Most dreams never get to see the light of day.
But, for those with enough gumption, the dream makes it to the
Launch
. Immediately, the
Start-Up
business is confronted by rocks and rapids, by unforeseen forces that challenge faith and fortitude.
Then, working in the business becomes all consuming. The founder knows, and hopefully his or her family knows as well, that survival depends upon the amount of time and energy, the courage and tenacity of the founder, and those who are close by. This small crew has to battle their way through the
Consuming River Canyon
. It is do…or die. And when the going gets tough, there is no one to turn to but themselves.

If the crew has survived the Consuming River Canyon, then the founder and the crew have been tested. They have become organized. Now, they can enjoy the
Profitable Paddle
. Here they have solid leadership, their culture is healthy, and their improved systems are working effectively. An occasional
Rapid
or
Rock
is encountered, but now, with confidence, these challenges are navigated with relative ease.

Then, the leader and crew come upon the
Wise River Fork
. The choice made here is of enormous significance. One fork takes the crew up the
River of Fortune,

where some new business is re-launched with a new product, service, or crew.
The other fork, where the current is heading rather naturally, runs flatter. If the decision is made, wittingly or not, to go with the easier current, then the die is cast.

Soon, the leader and crew come upon the
Courage River Fork
. To take this fork, they must confront their fears. It won't be easy. It is tighter, harder, there are more rapids and rocks, and the journey seems longer. But, it is the only way back to the
River of Fortune.
In the distance, there is a faint rumble.

If, instead of exercising courage, the status-quo is followed, the leader and the crew soon comes upon more rocks and rapids and then… the
Desperate River Fork
. The faint rumble is now clearly discerned; it is
The Falls
that lie ahead, and there, the crew is greeted by certain fatality.

The
Desperate River Fork
will take you, the leader, and your crew, on an adventurous journey. You will work your way up and around the
Last Branch of the Turn-Around Rive
r. The canyon walls are steep, the river is fast, the rocks and rapids are plentiful, the swamps are suffocating, but… it is the only way back to the River of Fortune.
Should you lack the courage, there is one - yes, one -
Last Chance Portage
. Your crew, along with some necessary help from seasoned advisors, will carry you over hill-and-dale back up-stream, re-launch you, and give you yet another chance to take the
Desperate River Fork
. At this point in your journey, there is no avoiding the
Last Branch of the Turn-Around River
if you want to avoid
The Falls
, and I, along with others, will give you that chance.

If it is by fate or foolishness that you end up at
The Falls
, I will be there along with you, to bring it all to an honorable end. Your final
Death Grip Dri
ft can be done with a lot of denial, or with a lot of class. Your legacy will depend on how you handle this drift.
The gentle
Remembrance Riffle
s, where the water lightly cascades over the small remaining rocks, will bring you inevitably to the
Dead Sea
.

From the
Sea of Opportunity
to the
Dead Sea.

When you see the oil painting of the River Map in our office, you will see that the Sea of Opportunity and the Dead Sea likely come from the same source. Hope springs eternal.
Along the way, there are
Campgrounds
where you can rest, there are moments of joyous
Celebration
, and there are
Cemeteries
for those who have been lost. I have even performed their funerals. I will be with you through all of it.

"If you don't know where you are going, you'll probably end up somewhere else."
God, Spirit, Universal Life Force Energy... however you think of Wisdom... is your constant companion. Karl Jung, the famous psychotherapist and theoretician, had a sign hanging on his office wall: "Bidden or not, God is always present." I have a similar sign on the wall in my office.
Free will is present all along the way. Remember, even with abundant wisdom, you remain the master of your destiny, and the captain of your soul (to paraphrase Invictus by William Ernest Henley).
It is the challenge, the journey itself, that propels the entrepreneur on, and on, and on.
It is a journey I have taken personally, and am still taking. I, too, am an entrepreneur with a family business, and partnership. And, I have been a River Guide for many.
---
The Compass that Guides Us

The "Integral Compass" that I use to guide my work, and that we'll use to guide our work together, is one that is being used by many people the world over.
One of my strengths is called "Ideation." I am fascinated by the power of ideas and how they impact and change the way life unfolds. You will see that I am a student and practitioner of Integral Theory as it has been developed by Ken Wilber and his cohort of companions around the world. I am particularly fond of the work done by Brett Thomas at Stagen.
If you want to learn more about my work at an "Integral Leadership Coach," then CLICK HERE.

In a nutshell, "The Compass that Guides Us" integrates four quadrants.

The Upper Left – The Inside of the Individual – Mental Models – MM

The Upper Right – The Outside of the Individual – Observable Actions – A

The Lower Left – The Inside of the Group – Culture – C

The Lower Right – The Outside of the Group – Standard Operating Procedures - SOPs

There are some very specific advantages that one has when using this Compass - advantages which make the use of this Compass integral to my work with family owned businesses.


The Compass helps me to work with the inside of a person.
It is very often the stuff that is inside the heart and mind of your key people that is so hard to address.

What is causing him or her to think that way?

What subjective preferences influence his or her decision making process?

What level of awareness impacts the direction he or she chooses to go?

What are the hot-buttons that cause such reactivity?

What prejudices pre-dispose predictable decisions and prevent creativity?
The Compass also helps me to work with the outside of a person.
The way a person behaves at home and at work is important. These observable actions send powerful messages to other people.

What measurable behaviors are working well for this person?

What measurable behaviors are not working very well at all?

What actions are causing performance problems at home, or at work?

What is he or she doing that brings about stellar consequences?

What actions bring about disastrous results?

When the inside and the outside of a person align, when they are well integrated, then the person has a lot of congruence. Typically, a person such as this is said to have "integrity." Someone with congruence and integrity "walks their talk." These individuals are good to be around, both at home, and at work.

Trying to change someone's behavior, without addressing the mental model that directs that behavior, is often unproductive. On the other hand, changing someone's behavior is often the most direct way to help them to change their mental model. How do you know which path to follow?

I use the Compass to inform my work with individuals who are committed to building more integrity.

And, I use the Compass to direct my work with whole groups of people.


The Compass also helps me to work with the inside of your culture, both family and business.
Every group of people develops its own rules about how to think and behave. This is true of your family, and of your business.

What values does your family or business hold near and dear?

What are the, often hidden, rules that must be followed?

What defines "good" and "bad" in your family, and in your workplace?

What roles do people play in your family, and in your workplace?

What do the people in your family, and in your business, fear about The Black Box?

And, finally, the Compass is very useful in reminding us to look at the SOPs, the Standard Operating Procedures that are followed by your business.
Here we are looking at all the ways in which your business actually behaves, and we could create a similar list for your family SOPs.

What are the observable ways in which your Leaders actually lead?

What success are you having with your Sales and Marketing efforts?

What effectiveness are you finding in your Finance and Accounting functions?

What benefits are you receiving from your Operational efficiencies?

What measurable indicators do you have in place to adjust your practices?

When the inside of your business aligns with the outside, it is said to have integrity.

When people in your business don't live by the core values of the business, there is bound to be conflict and unhappiness. Those people are often "misfits," because their Mental Models and Actions don't align with the Culture and SOPs of your business.

If your SOPs are out of line with your culture, there will be disgruntlement and resistance among your people as well. These people will say, "You aren't practicing what you preach."

The best families, and the best businesses, are those where there is a lot of congruence, a lot of alignment, a lot of integrity.

So, you can now begin to see that when we use the "Integral Compass," you and I can work effectively to align all four quadrants with each other, both at home and at work.

Shortly, I will be including some case-studies that will illustrate the usefulness of the Integral Compass for your family, and for your business.

For now, if you would like to engage me in more conversation about how the Integral Compass can be used to give direction to your family and/or your business, give me call.

---
---
A Guidebook for Whitewater Rafting Your
Family Owned Business UP the River of Success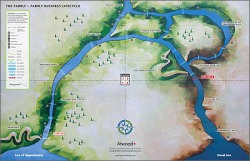 I wrote this 53-page eBook while hanging out in a hotel room in San Francisco, in January 2007. Jan was completing a week long training program in CranioSacral Technique, and I used the occasion to enjoy some solitude. I visited the Integral Institute, and chatted with a professor there about Family Owned Businesses and Integral Theory and Practice. I walked, hung out in coffee shops, and by the end of the week, I had written this eBook.

Re-reading it again, I remain impressed with my insight! Amazing. It is fun, a bit tongue in cheek, and pretty insightful. It is yours for free. Just click on the link below, and download the .pdf.

You might well recognize yourself, or your family, somewhere in my eBook. In fact, I expect that you will.

My daughter, Emily, who lives in Chicago and serves as my Administrative Assistant, is in the process of re-formating the eBook. If your copy has some glitches in it, email me and I'll get you a cleaner copy. Also, you will note the "we" pronoun used a lot in reference to "us." I wrote this eBook 9 months before my partner, Dr. Greg Kuhn, died suddenly of a heart attack. Another good reason to update the eBook.

Have fun navigating those rapids!
---