---
Family Business 3E, by Ernesto J. Poza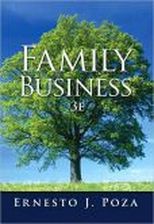 I bought this book used. The regular price is about $130. Dr. Joe Horak , my buddy down the hall, uses this book as the basic text for his class at GVSU on Family Business. It is thorough and excellent.

If you want one good source for understanding Family Businesses, this is it. There are lots of stories in it that illustrate the various points the author makes. The book is almost 400 pages long and packed with useful tips.

I highly recommend it to you. It is my basic resource. Thanks, Joe!
---
Generation to Generation: Family Process in Church and Synagogue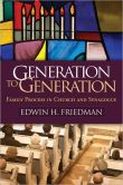 Edwin Friedman was an absolute genius. A Rabbi and master family therapist, Friedman lectured world wide. This book is a classic, read in seminaries around the globe.
The leadership lessons for clergy are precisely the same for leaders of family owned businesses.
Friedman's book on leadership, A Failure of Nerve, is the single best book I've read on the essence of leadership.
I cannot recommend Friedman more highly.
---
Family

Businesses: The Essentials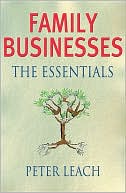 A comprehensive guide to every aspect of managing a family-owned firm.
This book, published in the UK, is the single best book I've read on the variety of issues facing a family owned business. If you want a reasonable look at the big picture, Peter Leach has it right here.
---
Family Business as Paradox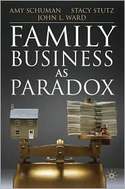 This book is extremely valuable. I've written elsewhere about how critically important it is to manage polarities. In fact, if you
look below
you will be taken to a paper that I've written on Polarity Management. There are fundamental polarities common in all business environments. There are common polarities that are shared by 1st, 2nd, and 3rd generations. Some problems are not solvable; some problems must be managed. This is a wonderful guidebook for those who want to effectively manage the paradoxes, polarities, and dilemmas that naturally impact every family owned business.
---
Taking Over: Insider Tips from a Third-Generation CEO



150 pages long. The author, Mitchell Kaneff, tells the real life story of his experiences of taking over from his father, who took over from his father. This is one guy's story about his own personal experience dealing with many of the common issues faced when "taking over" the family business.

There are 36 Insider Tips, and each is solid. Mitchell is on target in most cases with his advice, but understandably lacking in depth. For example, he states, "Figure out who shares your vision and who needs to be replaced." There are a lot of these sort of smart recommendations, but actually doing so can be extraordinarily difficult. In my work, "what" to do is pretty clear, but "how" to do it is a challenge.

Nonetheless, I would recommend this book to any woman or man who is taking over the family business, or, most especially, even beginning to contemplate it. Kaneff's story will forecast much of the maze ahead of you.


---
Keep the Family Baggage Out of the Family Business: Avoiding the Seven Deadly Sins That Destroy Family Businesses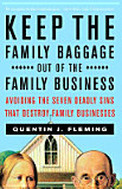 This book gets high ratings from me because it covers a number of the most common issues faced in family businesses. Upon first reading this book, I was rather pleased with the breadth of subjects, and the honest way the author approached each one. Based on that I do recommend the book as a good, easy to read account of the fundamental challenges facing family businesses. But then he says something like this: If your family needs counseling, get rid of your family member or get rid of the business.

I've spoken with other colleagues in the family business coaching world (though, there aren't many of us!) and the consensus among us is that the author is way off base on this basic recommendation. Nonetheless, there is a lot within this book that will help you to look at the many real issues in your family and business. In fact, if you click on the link below you will find the table of contents and a survey that Fleming has created.
---
Generation to Generation: Life Cycles of the Family Business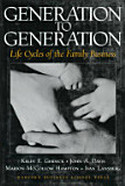 (Note: This is not to be mistaken for Edwin's Friedman's book by the same title.) Publisher's Description: "Generation to Generation" presents one of the first comprehensive overviews of family business as a specific organizational form. Focusing on the inevitable maturing of families and their firms over time, the authors reveal the dynamics and challenges family businesses face as they move through their life cycles. The book asks questions, such as, what is the difference between an entrepreneurial start-up and a family business, and how does one become the other? How does the meaning of the business to the family change as adults and children age? How do families move through generational changes in leadership, from anticipation to transfer, and then separation and retirement? This book is divided into three sections that present a multidimensional model of a family business. The authors use the model to explore the various stages in the family business life span, and extract generalizable lessons about how family businesses should be organized.


---
The

Little Red Book of Family Business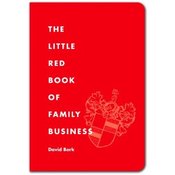 Soon to be written. Please check back.
---
Strategic Planning for the Family Business: Parallel Planning to Unite the Family and Business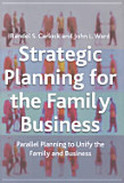 Publisher's Description: From small start-ups to giant multinationals, from the Mom-and-Pop owned barber shop to Ford, family owned businesses continue to dominate the world economy. Regardless of size, running a successful family firm presents unique challenges, and many fail to survive the transition to the next generation. Here is a practical, comprehensive guide to ensuring success through effective strategic planning. The authors provide a wealth of tested, easy-to-follow tools and techniques for mastering strategic planning for family-owned firms. Filled with real world examples, case studies, checklists, and planning worksheets, the book shows how to deal with a host of emerging challenges -
from new technologies and globalizing marketings - by integrating family values and dynamics into sound planning and management.
---