Atwood +
Love and Awakening: Discovering the Sacred Path to Intimate Relationships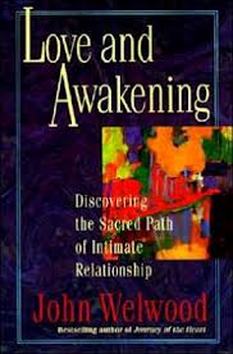 John Welwood has been around for a while. He has a few books, each of which supports the others.

Most books on marriage are about fixing problems. This one is about how a marriage can be a place for individual awakening and communal sharing. Rather than focusing on solving problems and how to be better problem solvers, Welwood is after a relationship that edifies (morally and spiritually uplifts) both parties. This is the marriage I want with Jan, and the one that I want to help cultivate in the people with whom I work.

I'm reminded of Kathleen Norris' line from her book, Dakota. "My marriage is my monastery." I get that. So does Welwood.
---
---
How to be An Adult in Relationships: The Five Keys to Mindful Loving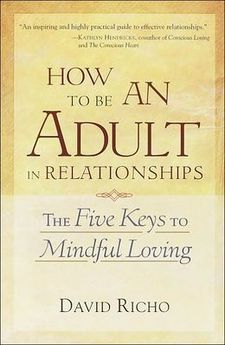 David Richo is one of my favorite authors. He was raised a Roman Catholic, is a marriage and family therapist practicing in California, and he is a Jungian. He runs deep with profound insights about how to live life. You will find other books by Richo elsewhere on my website. I read them over, and over again to deepen my life and they have helped me tremendously. However, they might not be for you. Go to check them out and see if you resonate with Richo's spirituality and practicality.

Richo encourages us to be stewards of each other in the healthiest of ways. If you are a couple that is dating, engaged, married... this book will take you both deeper into a more mature and conscious relationship.

---
---
A 4:45 Look at the Evolution of Marriage
---
Passionate Marriage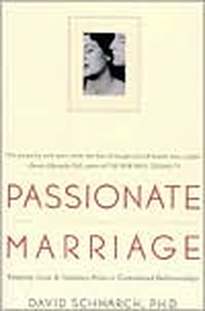 This book, and the model presented within it, has significantly informed my thinking, and my work with couples. Written by David Schnarch, Passionate Marriage is especially useful for those who are thinkers. If you enjoy reading a book that is full of challenging ideas that will change you, then this is the book for you.

In fact, in the early 90's I taught a course on marriage counseling to students at Western Theological Seminary in Holland. I used this book as one of the texts, and I required both husbands and wives to take the course together. I knew that reading this book changes your perspective on what a healthy marriage is all about. How can you be your real self, with your partner? That's the big question addressed by David Schnarch, who is a sex therapist. There are vast parts of this book that are explicit. It is a classic in the field, and it remains very important to me and my work.
---
---
The Seven Principles for Making Marriage Work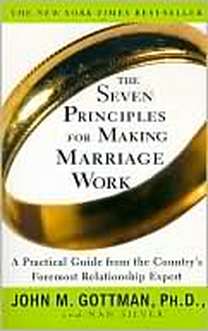 John Gottman is one of the gurus in our field. He has done an enormous amount of research on what works, and what doesn't, in marriages. His seven principles are not complicated to understand. They are, however, backed by hard data. If you follow these principles you will optimize the probability of success in your marriage. Grab these Seven Principles and integrate them into your marriage.
---
---
The Couple's Tao Te Ching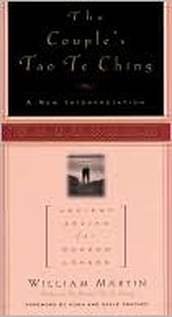 Written by William Martin, my dear friend since my seminary days in the the early 70's. Bill's book is beautiful. It is a translation of the classic Tao Te Ching written just for couples. 81 little verses, with commentary, make up this excellent book. Put it by your bed and read from it before you go to sleep. That simple act will, over time, transform your consciousness.

I can't recommend it to you highly enough.

Bill has other translations, too. For parents, for sages (those in the second half of life), and for caregivers.
---
---
You Can Save Your Marriage
I wrote this eBook some years back, in an effort to collate a lot of information from what I had learned about what you can do to save your marriage. There is a lot of information here, and it is yours FREE for the asking. Shoot me an email, and I'll send it to you.
The Relationship Success Manual
This document collates an enormous amount of information into one place. A number of people have influenced my work with marriages, couples, and families, and I've included some of the best of the best right here. This document was written in 2005, and it remains strong. Take it. It's yours for FREE. Just email, and ask for it.